HGLRC Sector132 3-4S FPV Freestyle Cinematic Drone 4K CADDX Tarsier-BNF/PNP
Sold out
Original price
$259.99
-
Original price
$329.99
HGLRC Sector132 3-4S FPV Freestyle Cinematic Drone 4K CADDX Tarsier-BNF/PNP

HGLRC Sector132 3-4S FPV Racing Drone BNF CADDX Tarsier 4K F4 Zeus AIO Flight Control 15A 4in1 ESC 1106 Motor Propeller Protective Guard

Item Name: HGLRC Sector132 3-4S FPV Freestyle Cinematic Drone 4K CADDX Tarsier-BNF/PNP
Net Weight:151.6g(PNP);153.7g(BNF)

【The Compact Size 4S 4K Drone 】3 inch small size toothpick carbon fiber drone with tons of power for its size , faster than you can imagine . Great 4S mini racing drone for beginners and veterans
【Stable and more protection 】3' brushless whoop drone with 2.5 inch propellers guards . Durable and light carbon fiber frame. Total 143g offers a good balance of weight and nice punch on 3S/4S battery, which leads to awesome flying performance.
【4K NEW Camera】CADDX Tarsier 4K Camera , allows both a live FPV feed and an HD DVR, without the weight of a heavy HD action camera. It supports APP setting and switchable resolution setting of 4K, 2.7k, 1440P, 1080P.
【Powerful picture transmission FD VTX Micro】 You can get the picture transmitted by the fastest VTX, the power of which can reach 400mW, and you can switch between different output power to meet your competitive needs!
Recommended Battery: 450mAh~650mAh 4S XT30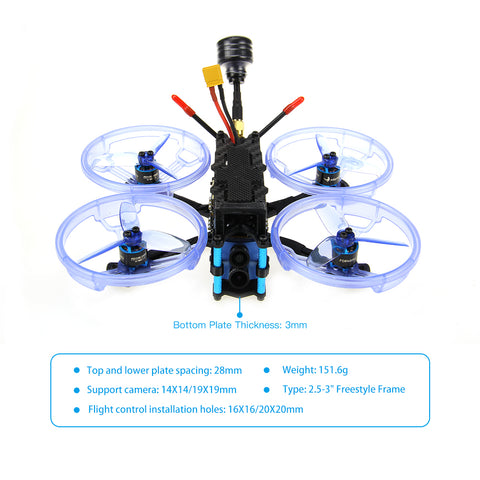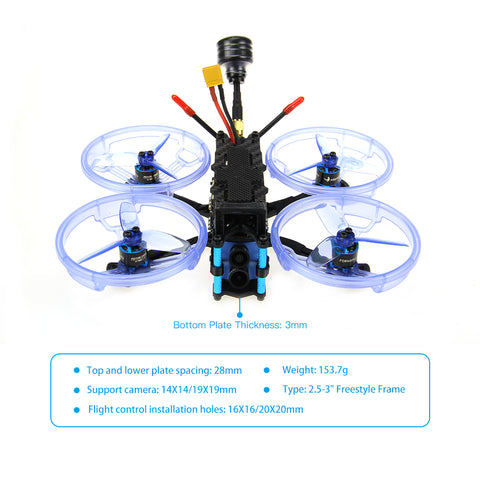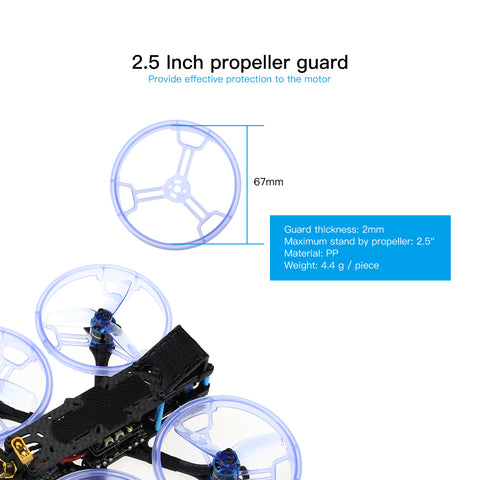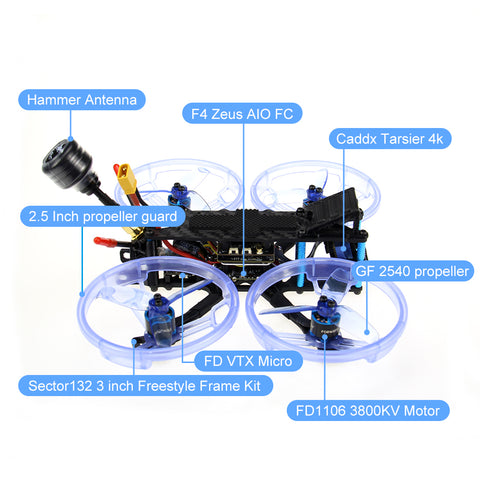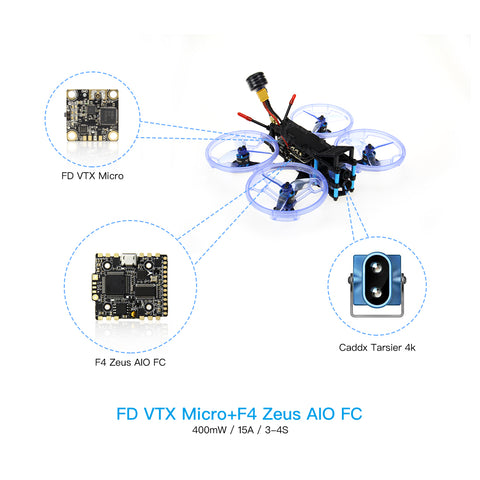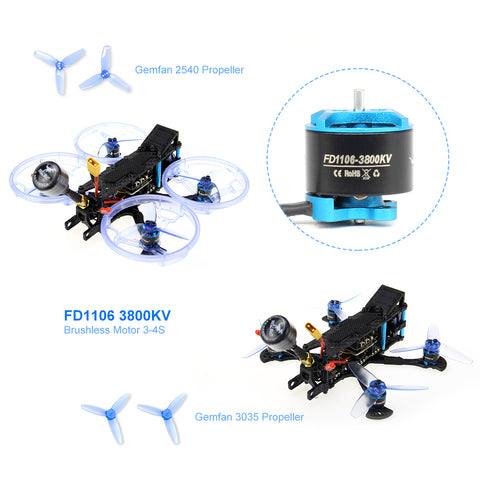 HGLRC Sector132 Freestyle Frame Kit
Material:3K Carbon Fiber
Model:Sector
Wheelbase:132mm
bottom plate Thickness:3mm
Standoff Height:28mm
Flight control installation holes:16X16/20X20mm
Support camera:14X14/19X19mm
Weight:57.9g

HGLRC F4 Zeus AIO 15A 4in1 ESC Flight Controller
Item Name:F4 Zeus AIO Flight Controller
MPU:MPU6000-SPI
CPU:STM32F405RGT6
Black Box:Flash 16M
Built-in Betaflight OSD to adjust PID
Input Voltage:3-4S Lipo
BEC Output:5V3A
Size:37x32mm
Installing Hole:20x20mm, M2
Support SBUS/PPM/DSMX/iBUS receiver
Item Name:15A 4in1 ESC
Constant Current:15A(3S) 13A(4S)
Peak Current:25A(10S)
CPU:SILABS EFM8BB2 48MHZ
MOS Tube:TOP QUALITY MOSFET
Support Damped Mode:DSHOT600/300/150/Oneshot125/42,MultiShot,PWM
Weight:6.2g

HGLRC FD VTX Micro 400mW
Item Name:FD VTX Micro
Output Power:PIT/25mW/100mW/200mW/400mW Switchable
Input Voltage:DC 5V
PIT---------0dBm------70mA
25mW-----14dBm-----150mA
100mW----20dBm-----210mA
200mW----23dBm-----280mA
400mW----26dBm-----360mA
Installing Hole:16x16mm, M2
Size:20x20mm
Antenna:IPEX
Weight:1.5g

CADDX Tarsier 4K
Dimension:
CAMERA:19X20mm
DVR:29X29mm
HOLE:20X20mm
FOV:4K F2.8,FOV150°(16/9),FPV FOV165°(4/3)
Lens:DUAL Lens F2.8/12Mega
Audio:DUAL DIGATIL MIC
CPU:Dual core dual system
Sensor:12M sensor,1/1.8INCH",1/2.9INCH
Main Resolution:
4K/30fps 16:9
2.7K/60fps 4:3
1440P 60fps/30fps 4:3
1080P/90fps,60fps,30fps 16:9
720P 120fps 16:9
CAMERA Bitrate:50kbps/66kbps
Video System:NTSC/PAL
ISO:OFF/100/200/400/800/1600
ANTI-SHAKE:Hardware anti-shake
Scene Mode:Auto/Personage/Scenery/Defog
Weight:18g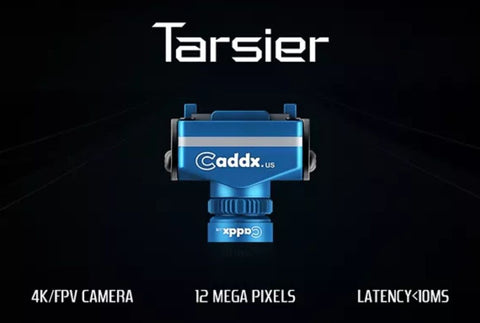 HGLRC FD1106 3800KV Brushless Motor
Motor:KV3800
Stator Diameter:11mm
Stator Thickness:6mm
No.of Stator Arms:9S
No.of Rotor poles:12P
Motor Resistance:290mΩ
Max Continuous Current:6.37A
No.of Cells(Lipo):3-4S
ESC:13A
Recommended Prop(inch):2.5-3 Inch
Wire type:28AWG x 80mm
Weight:6g

Gemfan 2540 2.5 Inch 3-Blade Propeller
Gemfan 3035 3 Inch 3-Blade Propeller
Quantity:3 CW & 3 CCW

Package Included:
1x F4 Zeus AIO Flight Controller
1x FD VTX Micro
4x FD1106 3800KV Brushless Motor
1x Sector132 Freestyle Frame Kit
1x CADDX Tarsier 4K
6x Gemfan 2540 propeller
6x Gemfan 3035 propeller
1x Hammer Antenna
1x Receiver(PNP not include)