Jumper T18 2.4G 868/915MHz 16CH Hall Sensor Gimbal OpenTX Multi-protocol Transmitter JP5IN1 RF Module for RC Drone - Mode 2 and Mode 1 Switchable
Sold out
Original price
$209.99
-
Original price
$269.99
Jumper T18 2.4G 868/915MHz 16CH Hall Sensor Gimbal OpenTX Multi-protocol Transmitter JP5IN1 RF Module for RC Drone - 
Mode 2 and Mode 1 Switchable
This product is discontinued.
OVERVIEW:
The Jumper T18 brings the best features of the T16 series and upgraded the JP4IN1 module into JP5IN1. A radio which controls more!
Jumper focusing on providing hardware compatible with various open source projects. We are always working on bring out better products.

Looking for a radio can control long range? Do not want a heavy module attached to the radio? Now you can get T18!
The Jumper T18 has JP5IN1 multi - protocol module, with 2.4G JP4IN1 and 915mhz / 868mhz at same time.
With T18 you can control your mini quads and air-planes at same time without any extra module attached.

What's the difference?
Besides JP5IN1, T18 has new added adjustable LED back lights. Two power buttons make sure you can turn off the radio quickly enough. Smooth ALPS RDC90 sensor gimbals (T18 Pro only). Adjustable neck strap hook balancer can relieve your neck weight… And much more.

Description:
Brand Name: Jumper
Item Name: T18 Transmitter
Size: 180*190*58 MM
Faceplate: Carbon
Mode: Mode 1(Right Hand Throttle)/Mode 2(Left Hand Throttle)
Gimbal Type: Hall Sensor Gimbal
Weight: 888g (without battery)
Working voltage: DC7-8.4V
Channels: up to 32 channels (depending on the receiver)
Simulator mode: 3.5mm standard ppm output or USB HID
Display: IPS480*272 (800 * 480 HD IPS touch screen interface reserved - expected to be supported by openTX2.4 and above)

Features:
JP5-in-1 Multi-protocol module included R9, DSM2/X, FrSky, SFHSS, FlySky, FlySky AFHDS2A, Hubsan and more
CRSF can be attched to the back JR module bay just like T16
OpenTX firmware
Voice function
Zipper Case Included
Adjustable LED Backlights
Vibration reminder function
USB-C online firmware upgrade
JR/FrSKY compatible module bay on rear side.
JP5IN1 module - 2.4G JP4IN1 and 915mhz / 868mhz
6-Flight Mode Buttons (for APM and Pixhawk flight controllers)
Support telemetry (depending on the receiver)
Up to 16 channels of output (can be extended into 32ch, depending on the receiver)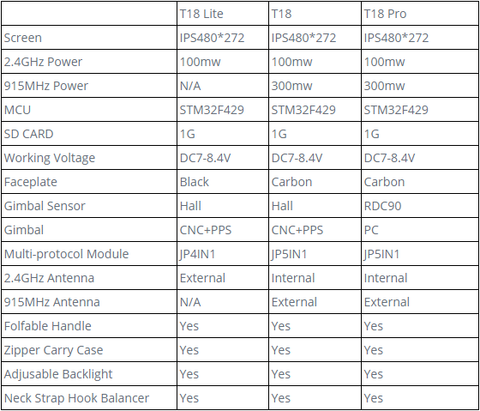 Package Included:
1 x T18 Transmitter
1 x Zipper Case
1 x USB-C Cable
1 x Jumper Orange Neck Strap