OMPHOBBY M2 EXP 6CH 3D Flybarless Dual Brushless Motor Direct Drive RC Helicopter PNP with Open Flight Controller
Sold out
Original price
$359.99
-
Original price
$359.99
Shipping Methods & Delivery Times

We offer three shipping methods:
1) Free Standard Shipping - takes 7-20 working days (except remote areas) and requires a remote fee for those areas.
2) Expedited Shipping - takes 4-10 working days and requires an additional fee. Contact us if you want to use express shipping.
3) Ocean Shipping (for USA only) - takes 18-35 working days. Contact us if you want to use sea shipping.

OMPHOBBY M2 EXP 6CH 3D Flybarless Dual Brushless Motor Direct Drive RC Helicopter PNP with Open Flight Controller
Adjustable Flight Control Parameters
High Performance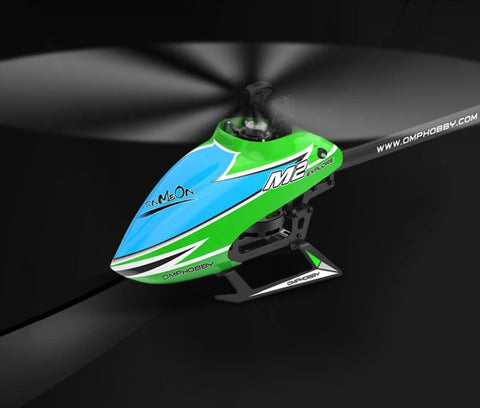 Adjustable Flight Controller Parameters 
Dual Brushless Direct Drive
High-performance 3d Flight 
Easily Maintained 

High Performance
M2 Explore inherits the high performance of the original
M2 version. Sunnysky and OMPHOBBY have always
used the highest quality materials, with dedicated
workmanship the M2 Explore is no different. The R&D
team aims at reducing the purchase cost for enthusiasts
without losing performance - This is the M2 Explore.
M2 Explore is a high-quality product created by the OMPHOBBY R&D team for helicopter enthusiasts.Its compact size is suitable for indoor flexible flight and outdoor violent flight.9 Mins Flight Time|4 Mins 3D Flight Time
 
Integrated,Dual Brushless ESC,Flight Controller And Receiver 
The dual ESC's are improved using high-quality MOSFET's with lower internal resistance,enhancing the flight characteristics even further.The built-in official receiver supports s-bus and DSM/X satellites.The flight controller has three built-in flight modes:stabilizing attitude, soft 3D and violet 3D.While in 3D mode you can quickly switch to attitude mode.The flight controller also has fully adjustable parameters including gyro sensitivity,rates,gain and servo mid-point position / collective.
Main Rotor Diameter:400 mm
Tail Rotor Diameter:71 mm
Flying weight:Approx.306g
Dimensions:408mm*72mm*133mm
Battery: 11.1V 650 mAh 45C
(Installed in Helicopter)
Flight Time:Maximum flight time 9 mins
4 mins for extreme 3D maneuvers
Servo: 10g 5V 0.08sec/60-1.65kg.cm 
Polycarbonate cased,all metal gear,high-performance servos 
Flight Controller: Receiver ports for s.Bus DSM DSMX
Battery x1
(Installed in helicopter)
Cross Shaft x1